Watch Judy's TEDx Talk, "The Dawn of Dementia Care"
Watch Our New Animated Movie, "The Good News About Dementia Care"

Find out more about our new movie, "The Good News About Dementia Care," in the blog about the movie in our Resources section of our website.
The Dementia Handbook is now available at Amazon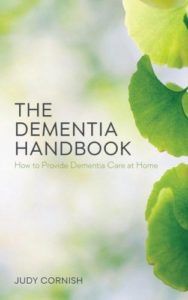 The Dementia Handbook: How to Provide Dementia Care at Home is now available for purchase (as a hard copy or Kindle version). Purchase The Dementia Handbook at Amazon.com.
Providing dementia care is profoundly stressful for families and caregivers. People with dementia or Alzheimer's experience emotional distress, which leads to behavioral complications and the need for institutional care. However, if families and caregivers are able to identify the emotional needs caused by dementia and understand which skills are lost and which remain, they can lower the behavioral complications and their own stress.
As the founder of the Dementia & Alzheimer's Wellbeing Network® (DAWN), Judy Cornish approaches dementia care with clear and empathetic methods that not only improve the lives of the individuals with dementia but also of those caring for them.
Interviews
Interview on Writers & Authors on Fire
You can listen to the episode at Writers & Authors on Fire. [aired April 25, 2017]
You can listen to the episode at Alzheimer's Speaks. [aired April 11, 2017]
Judy Cornish Interviewed on The Inner Game of Aging Podcast
Listen to the podcast at The Inner Game of Aging website. [March 27, 2017]
DAWN Featured on KHQ Spokane (NBC)
Newspaper Articles