Judy Interviewed on "A Clear Life" Podcast – Upcoming Free Workshop
Judy Cornish was recently interviewed by Brianne Grebil on the "A Clear Life" podcast. She and Brianne enjoyed their time so much that they have decided to collaborate on a free workshop discussing the DAWN method of dementia care.
Dementia Care Workshop
The workshop is scheduled for March 11, 2018 at 12:00pm PT/3:00pm ET. It will last approximately 90 minutes and is free to the public.
What will be covered in the workshop:
A beautiful and refreshing perspective on dementia that brings with it renewed hope, peace and calm.
A deeper understanding of what is lost with dementia, but more importantly what remains, so that you can adjust your care giving to focus on your loved ones strengths, making life easier and more enjoyable for you both.
How to have deep and beautiful experiences with your loved one, regardless of their level of cognitive ability.
(This program ended. You may view the replay of the 90 minute webinar about DAWN dementia care on The DAWN Method's YouTube channel.)
---
DAWN Recognized as a Top 10 Idaho Business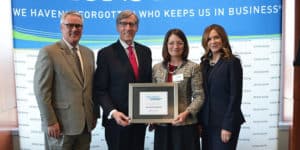 DAWN was recently recognized by Zions Bank as one of ten Top Businesses in Idaho in 2017.
Each year Zions Bank features about 370 businesses on their "Speaking on Business" radio show, and selects ten that exemplify the best of Idaho business to be honored for innovation, growth, and contribution to their communities. This year they chose DAWN.
As you know, Judy's work at DAWN (and at Palouse Dementia Care) is to make strength-based dementia care available to families and dementia caregivers everywhere through her books, classes, and talks.
Many thanks for your support and goodwill!
---